THE SPIRIT OF MUFTI
As children, we were never afraid of failure. We got up, dusted ourselves and went back to what we were doing. There were no furtive glances to check if someone spotted us falling, no embarrassment, no feeling of being ridiculed. It was all part of our journey. As we transition from child to adult however, a new journey of self-censure begins; of "What if?… Can I?… Is it possible?" This conditioning, restricts, shackles, and tethers us to the monotony of the multitude.
Some of us remain curious, unbridled, ever-seeking, ever-questioning, ever-expressing. This internal yearning to test ourselves – what we had when we were children never really disappears. This childlikeness, this spark of courage lurks, spurts, sputters somewhere in the fringes of our mind, waiting to be inspired. This is the seed and root of how talent begins its journey – intrepidly expressive.
Mufti is on the side of those who want to set free their expression. On the side of those who 'live to express'. And by being a strong voice, we hope to inspire more people to join our tribe.
Mufti lives to inspire people to be Expressive..
To us, this feeling is captured directly in the Spirit of the city of Mumbai. Here, all things seem possible, whispering your dreams to you in the night, rushing you out to meet the unforgiving day. The city will give you hope, will put you through the grind, will test your limits. It will forge you and reforge you, teach you, test your courage, help you hone, and master, and refine your talent. And it will transform you. It will distill your courage into a refined boldness and make it known to the world. Mumbai will embrace you while you do what you must, this city has a fragrance of inclusivity about it.
This is the city where Mufti was born, forged, and refined.

We understand the city deeply, we embody its spirit and not just the physical aspects.
Mufti creates expressive fashion inspired by the creatively stimulating nature of Mumbai.
Mufti is the brand for a man who seeks a refined sense of style
FROM MUMBAI TO OUR LOGO
Everything about this island city, reflects the creative, transformative, and inclusive spirit of the brand while it lives, struggles, and expresses itself, alongside its patrons in an unforgiving and uncompromising world. From the jam-packed local from Virar to the glamorous streets of Bandra to the artistic heritage of Kala Ghoda, Mumbai has been at the very centre of India's march from independence toward self-reliance. The hub of the arts, entertainment, and finance, Mumbai is where talent always begins its journey.

According to the great Indian poet, Tagore, in Sanskrit, birds are described as being "twice-born"- once in their little shell and then finally in the freedom of the unbounded sky. This is true also for human beings. Mufti's efforts in asserting its identity have culminated in the redesign of its brand, retail, and merchandise identities, manifested and held together by the new logo, reminiscent of a bird, the 'M' (insert logo) bird. In flight. This bird was derived from the Devanagari letter 'M' as Mufti starts with (DEVANAGARI) M and Mumbai starts with (DEVANAGARI) M.

Airborne. Just as Khushlani's and his patrons' dreams are.
FROM MUMBAI TO OUR PRODUCT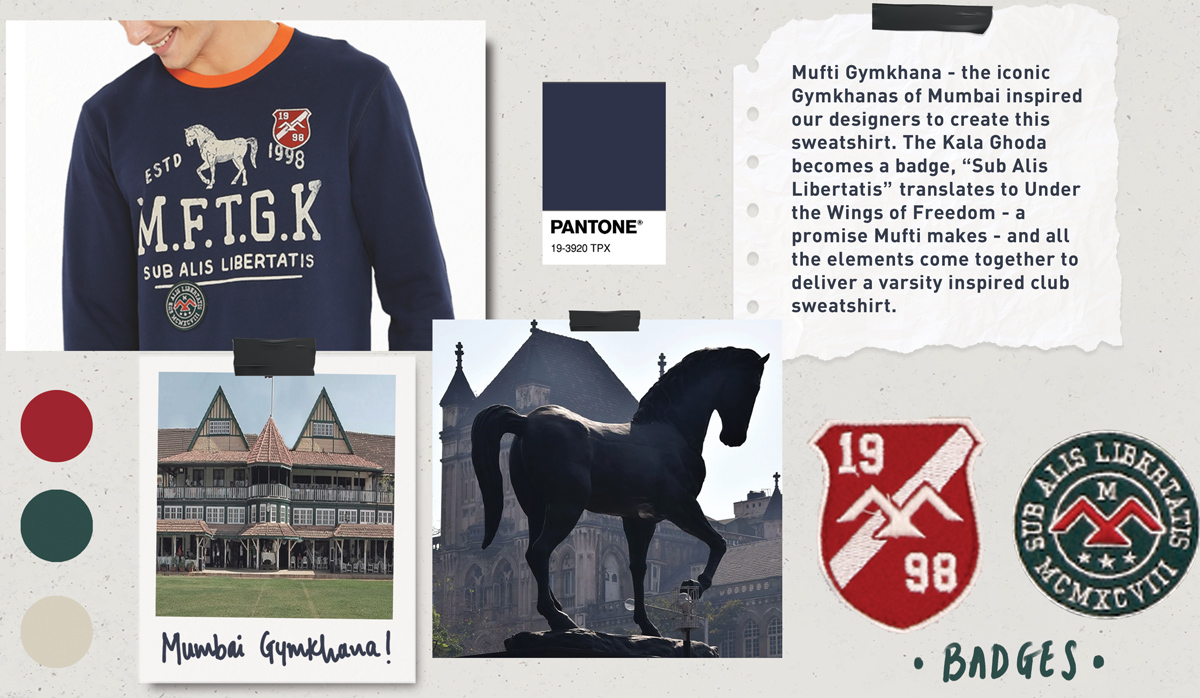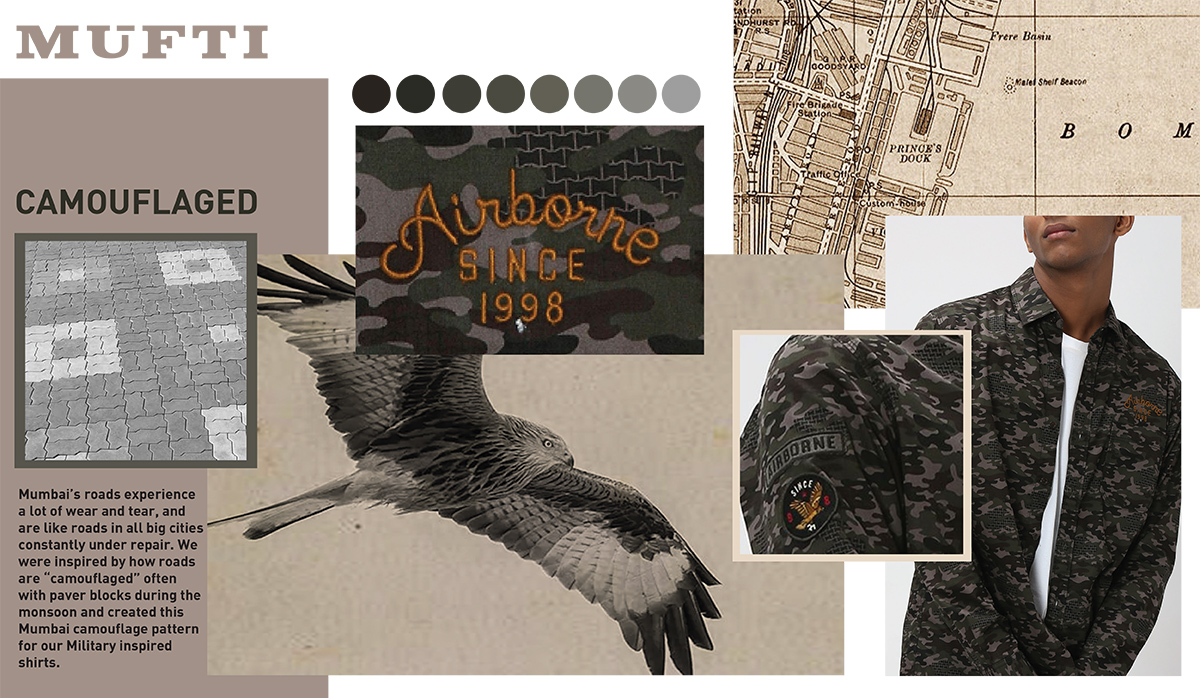 FROM MUMBAI TO OUR STORES
Mumbai
Holds Us Together
Makes Us Stay
Makes Us Fly
Airborne Since 1998

CAMPAIGN IMAGES